Prepare your artwork: Color model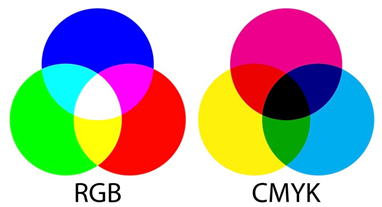 This article is not for the design or print professionals. We are not discussing the technical side of color models here.
If you are a person who has no idea of color terms like CMYK, RGB or SPOT Color, then this article will give you a basic concept that would be enough to place your order with us.
CMYK stands for Cyan, Magenta, Yellow, and Black. Also known as Process color, Four-color, or Full color.
As this is the best color model for almost all jobs and printers, we use it.
What you see on your monitor are RGB colors. A designer understands that what colors we see on monitor will not be printed the same as it is. Even your artwork is in the CMYK; the printed one will give a different look. However, designers know the correct values, and you no need to worry if you are dealing with a professional one.
If your artwork is in the RGB, we have to convert it to the CMYK, and this conversation causes some differences in colors.
RGB stands for Red, Green, and Blue. Some printers support this color model, but most of the jobs are converted to the CMYK. Even your artwork is in RGB, it will be different than the monitor.
SPOT color is also called Solid color. It is generated by non-standard offset ink such as metallic or fluorescent. It is also generated by mixing different inks in a particular ratio and then use it as a single color. Some companies like Pantone offer ready-made special ink.
Using process colors, we can match some unique colors, but it is not easy, and not all special colors can be matched.
What to do?
1- Make sure that your artwork is in the CMYK.
2- If you are planning to print it as an RGB or as a Spot color, inform us before place your order to check if it is possible or not.
3- Consider that printed colors will be different from what you see on a monitor.
4- Acknowledge that colors are also different from monitor to monitor, machine to machine, and printer to printer.
5- Print a sample if possible.
Don't hesitate to get the help of our experts if needed.